Details

Hits: 7822
Project funded by our volunteer holiday in Honduras
---
 

Our houses made with bottles in Honduras
Houses built with recycled bottles and clay for Garifuna families in need
Project for the next 3 years
THE PROBLEM:
There are a lot of Pepsi, Coca Cola and derivatives plastic bottles all over the streets and beaches. We consume each year more than 225 million tons of plastic and only 18% is recycled. Knowing that the plastic decomposes in 300 years ... questions must be asked!
There is no treatment or recycling of plastic waste (and others). All waste is burned on the beaches and in the dumps, which has a detrimental impact on the environment.
In Garifuna villages, there are many homeless single-parent families (single woman with 3 or 4 children). They are often temporarily housed with family or in small precarious and unhealthy houses.
THE SOLUTION
Using plastic waste (bottles) and surrounding materials (clay, bamboo and cane) we build green homes to provide shelter for homeless Garifuna families.
then, we will equip these houses with a wind turbine that we designed out of recycled products.
OBJECTIVE
With the participation of families and students from Quebec, we will build a ecological house equipped with a wind turbine to provide a home for a deserving family in 14 days.
PROJECTION
The second year, we will create a autonomy cycle relying on nature. We will plant fruit and vegetable trees in their garden using compost. The objective is to arrive at an equation HOUSING + ENERGY + FOOD = life for these families.
HOUSES MADE OF BOTTLES AND CLAY
How is it built? Plastic bottles filled with sand, sealed with clay or barro (clay mixed with straw).
Who will participate in the construction? CEGEP, colleges and / or schools students from Quebec will be the main driver of the construction: they will lead the project exclusively for their school. They will always be the sponsor of the house and the family.
They will be supervised by Coco Tours and Garif'Onda's team: 4 guides, 1 carpenter, 1 mason and 1 plumber. The home beneficiaries, their family, school classes from the Garifuna community and all people who wish to help or learn to make their own home bottles will be a part of the construction.
Advantages of this house:
- Costs: The house built from plastic bottles costs a third of a concrete house and will be more durable.
- Resistance: The compacted sand in a bottle is 20 times stronger than brick, and the barro is more resistant to earthquakes than cement.
- Comfort: The sand contained in the bottles is also a natural thermal insulation which makes these houses cool and well suited to the climate in addition to be an acoustic insulation thanks to the thick walls.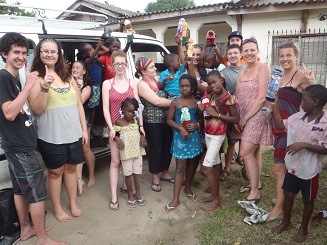 Project funded by our volunteer holiday in Honduras